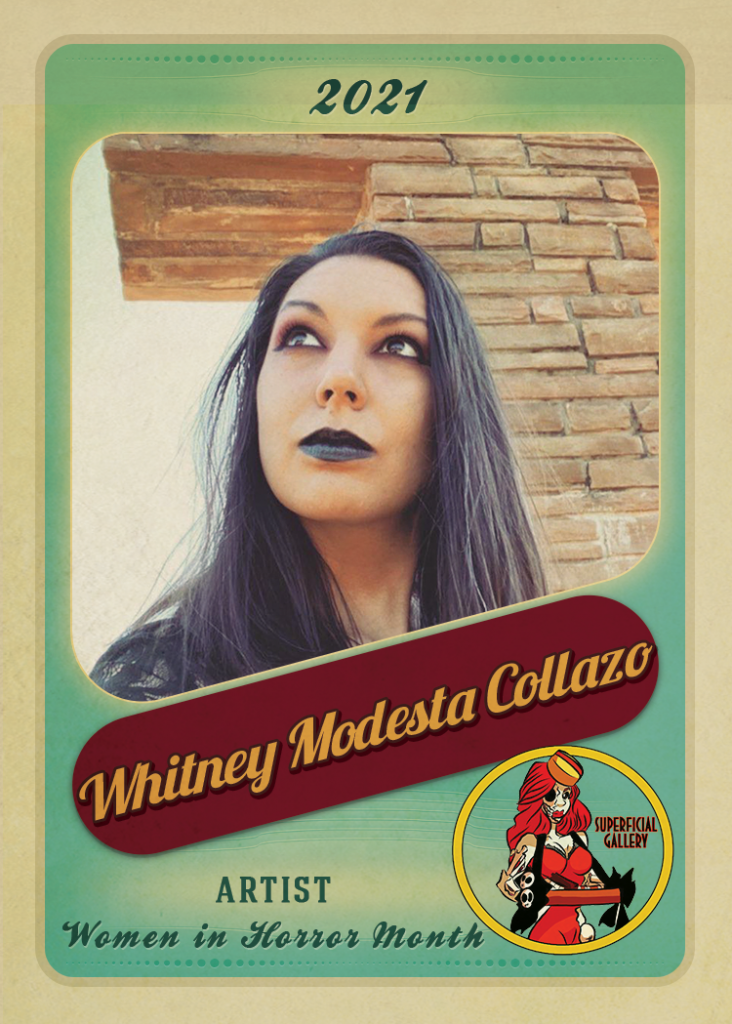 Whitney Modesta Collazo is a veteran to the Gallery WIHM event. She is an Artist / Writer & Podcaster.
How have you fared during the pandemic?
I can honestly say that I have been busier than I thought I would but I wouldn't have it any other way!
What's been keeping you busy?
Podcasting, screenwriting, painting, drawing and teaching zoom art lessons.
What was your favorite piece of new horror media from the last year?
Just knowing that Horror creatives have been able to virtually connect and collaborate has been fascinating.
Zoom and Streamyard have been fascinating outlets with seminars, workshops, and even podcasts.

All of my time with Gruesome Magazine's Decades of Horror: Classic Era Podcast has been spent recording via Discord and just this past January we switched to video podcasting via Streamyard!
What are you looking forward to most in the horror community for 
2021

?
Seeing more fierce feminine energies emerging with their frightening works.
What keeps from throwing in the towel when things get tough?
Dedication, opportunity and love.
My father came here from Mexico for opportunities.
Both he and my mother never threw in the towel when it came to me.
So I know I shouldn't quit on them or myself because of their love.
What projects do you have coming up?
After writing many Latinx Horror/scifi based screenplays , I'm currently revising them and after that, here's to hoping for furthering them as projects!
Other than that I have created a YouTube channel where I will be sharing Latinx horror and folklore as I demonstrate makeup or art to coincide with the theme
Important Links for Whitney Modesta Collazo