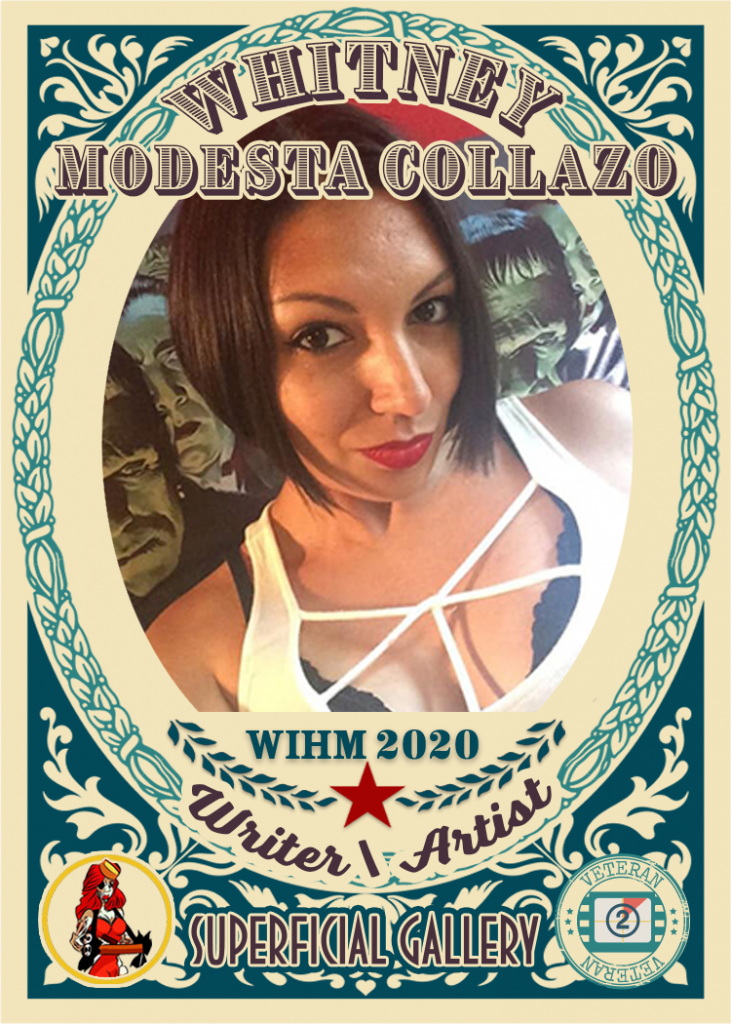 Whitney Modesta Collazo is a veteran to the Gallery WIHM event. She is a Writer/Artist/SFX Makeup Artist & Podcaster.
What motivates you to do what you do?
Love.
At a very young age my parents love and encouragement pushed my creativity.
I do everything that I do out of love and passion for art.
Who is your favorite woman who does what you do?
There were and are so many creatives who I adore! Millicent Patrick is number one. She's the woman who created a love of my life, the Gilman of Creature from the Black Lagoon. Currently as a Latina in horror, I've come to admire Gigi Saul Guerrero.
If you had one wish for women in your space in 2020, what would it be?
I wish for every talented señorita to be confident and to scream si se puede! Because yes you can!
Share a practical tip for a woman who wants to do what you do.
Paint that painting, write that story and/or script. Record that podcast, go for that audition, sign up for that haunt, check out that casting and/or crew call! Also, network with as much talent as you possibly can.
Inspire someone who is not where they want to be in the industry yet.
Don't look back because you're not there anymore. Stay true to yourself and do your art.
What scares you?
The news. The real horror of the daily reports of countless girls and women going missing. We as ladies need to keep an eye out for each other and stick up for one another. Out in public, at shopping centers, on the streets, and everywhere we possibly can.
If you see something, say something. Do something.
What projects do you have coming up?
I've completed two scripts and will be working on two more between this winter and Spring.
In between writing, artwork and makeup FX works, I am also co-host for Gruesome Magazine's Decades of Horror: The Classic Era. We cover everything between 1920 and up to the 60's. So if classic horror is your thing, go give us a listen!
Important Links for Whitney Modesta Collazo