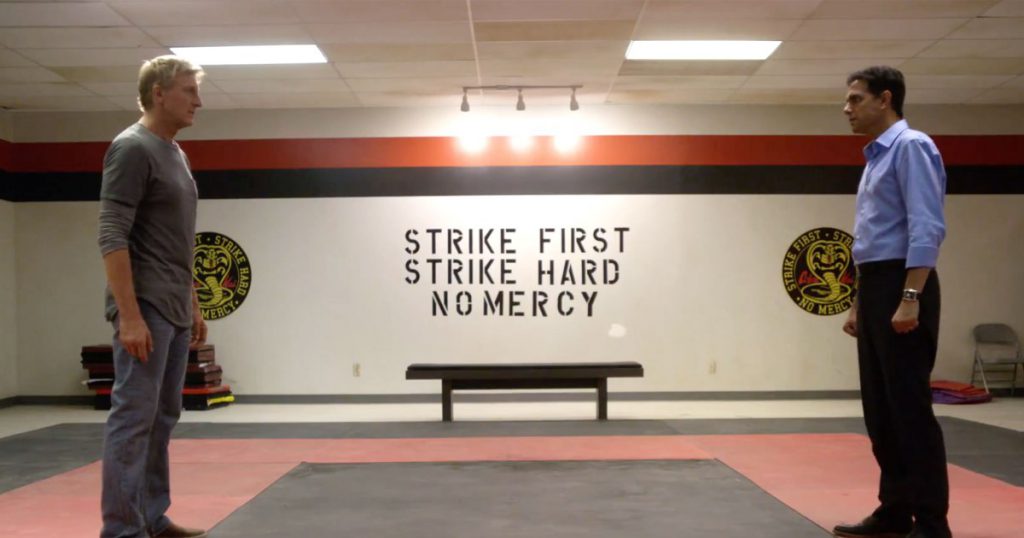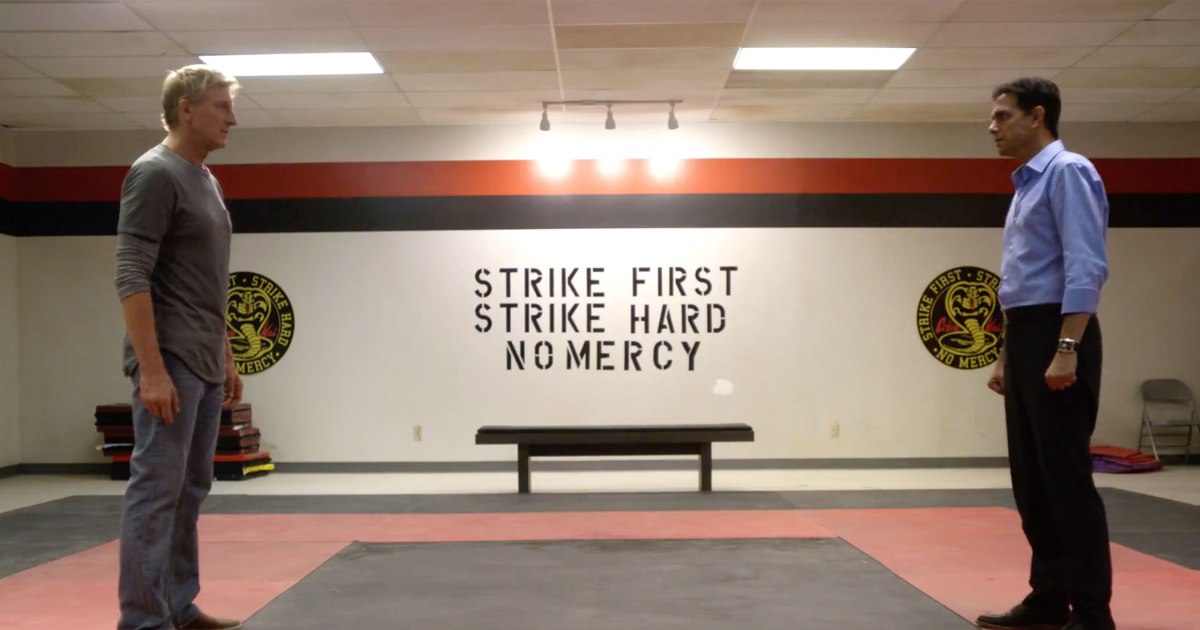 If you have not watched Cobra Kai on YouTube Red, you've basically wasted the last two weeks of your meek existence. Or, maybe you don't know what YouTube Red is…which is a valid concern. It's like Netflix, but on YouTube.
I went into viewing Cobra Kai a bit skeptical. I love the tongue-in-cheek mythos of Johnny actually being the good guy in The Karate Kid, and Daniel as the bully. Some genius on YouTube put that one together and How I Met Your Mother took it to great lengths with Barney Stinson's love of Johnny Lawrence. Could they get 10 episodes of around 27 minutes each out of that idea? And, on a TV service that was untested?
Look, I don't want to make any predictions about YouTube Red as a service. They absolutely hit it out of the park. Will Cobra Kai strap them to a rocket-ship like House of Cards and Arrested Development did for Netflix? I don't know that. We are embarking on a moment where all kinds of mini-Netlflix's are about to rule our lives. While I still have the self control to subscribe to Showtime Online and jettison it after I've watched Billions and Homeland, Amazon sucked me all the way in with Prime. Point is this, watch this damn show on YouTube.
Cobra Kai is a genuinely good show. And, not just good, it was probably the most enjoyable season of Television in a long time. This was not simply nostalgia done well, but, it did respect the hell out of the source material, while providing layers and progression for most of the characters. And, because of that progression, they left themselves in a very good position for Season 2.
My favorite little moment that in no way can be looked at as even kind of a spoiler: Johnny is posting flyers in the school for Cobra Kai dojo and he slams one up over an anti-bullying flyer. Great stuff. The show is very self-aware and toys with these concepts quite a bit.
So, all that being said, go watch Cobra Kai. But for now, let's face it…these fifty different content creation machines that are going to engulf television over the next decade need content. And, I've got ideas. Every 80s film should be turned into a badass television series. Here is what I've got:
Top Gun
Val Kilmer is very much available and very much able to play a holding on to his glory days fighter pilot instructor.
The Breakfast Club
Judd Nelson grows up and becomes the Principal defying the odds that we last saw him in. Emilio Estevez grows up and becomes the Coach who has just won State Championships for like a decade. Estevez runs the school as a Legend in the town and from that, clashes with Nelson when Nelson wants to do whatever sort of academic things that the showrunners would come up with. Estevez lives on the edge, covering up scandals his players are involved with, and dares Nelson to grip his youth, while Nelson fights the urge.
Bill & Ted's Excellent Adventure
Obviously we need to know what these two are up to.
E.T.
Spoilers for E.T. to follow, but, my man E.T. went home. And, he's been there for 36 years. And, now, in 2018, alien technology has finally reached a point where E.T. can come down to earth and not die. So, E.T. comes down to earth and of course Elliot has a life in shambles. Because America is in shambles. And, E.T. can't believe what America has become. He longs for the days of his first arrival. The 80s. Factories were booming (or probably just about to start shutting down, but E.T. didn't realize that, man!) and he wants those days back.
Yeah. E.T. is about to rock a MAGA hat.
The Goonies
I'm not a big Goonies guy, but, all of these kids are available for another treasure hunt. End Season 1 with their Houses being demolished after the now-adults have found a treasure and thought they were about to save the Day.
Gremlins
No plot needed. Just do the damn thing
Beverly Hills Cop
I know they tried to do this. But, the idea, frankly, seemed terrible. They were just going to have Axel on the periphery and bring in someone to play his son. And, it was set to be on CBS, which would make it just a banal police procedural. Nah, this needs to get done right. First, you turn it more towards the direction of a drama with comedic moments, which suits the 30+ years maturation of Axel in between. And, you give Eddie Murphy a chance to redeem is career. He won't agree with this because he does the voice in Shrek, but, my god it's unbelievable to see how far this guy has fallen. He has one decent credit since 1999: Dreamgirls. In the 7 years before that, it's a smattering of hit or miss stuff.
Eddie Murphy needs a revitalization. And a show that is half The Wire and half original Beverly Hills Cop comedy is something that would absolutely succeed in 2018.
Die Hard
They keep trying to bring this Franchise back in film form. Which is fine if you are into making a ton of money but also putting out an awful film. If there ever was a great idea from the 80s that you could mesh with a classic television show like 24…this is it. Bruce Willis obviously does not need to feature in every episode, and the sequels provided him enough action hero children out there to make this work.
Also? Carl Winslow is available to reprise his police officer role.